Eastern Regional 4-H Shooting Sports
Eastern Regional
4-H Shooting Sports Tournament
Saturday, August 25th, 2018
Eastern 4-H Center
100 N Clover Way, Columbia, NC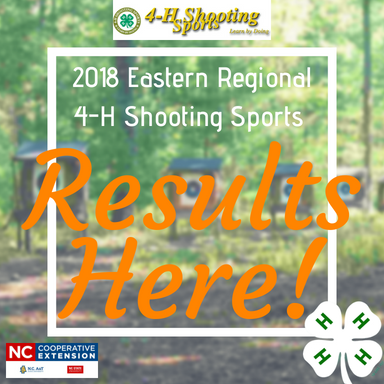 Registration (closed)
Payment Form: https://goo.gl/forms/XKCDIrtZjoZSAsTE2
​Payments will not be accept onsite. All payments must be mailed to Edgecombe County Cooperative Extension, PO Box 129, Tarboro, NC 27886​
Contact Art Bradley for questions at (252) 641-7821 or art_bradley@ncsu.edu
Lodging at Eastern 4-H Center​
ONLINE Lodging Registration will be due by August 17th
Information regarding prices, check in policies, etc is located on the lodging link
Lodging Link:https://form.jotform.com/lsdail2/4Heasternsslodgingform
Lodging Contacts for Information is
Lauren Dail, 4-H Agent, Pitt County – 252-902-1712 lsdail2@ncsu.edu
Meg Wyatt, 4-H Agent, Franklin County – Phone: 919.496.3344 meg_wyatt@ncsu.edu
Rules
Eastern Regional Tournament Rules (conforms with State Tournament Rules)
Youth Pistol Waiver (required Federal form for participation of youth in .22 pistol events)
*Coaches must ensure that they have a completed form for each youth participant in .22 pistol. You may edit to include your practice dates as well. If you already have a signed form, that will suffice. Youth Handgun Safety Act Notice referenced on form.
Each participant must have a completed 4-H Medical Infomation and Treatment Form on file with the coach at the tournament. 
Interested in supporting the 4-H youth in the Eastern Regionals? Check out our "4-H Aim for Excellence" program!