Edgecombe County 4-H Program
4-H Grows Leaders. If you are interested in finding out more about 4-H in Edgecombe County, come to one of our local clubs! Clubs are a great place to meet friends with similar interests. We learn life skills by doing…there are endless projects to get involved in, including science, outdoor recreation, livestock, horse, public speaking, cooking, sewing, photography, gardening, shooting sports, and more!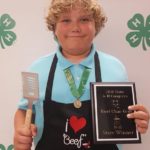 Take a look at our CLUB SCHEDULE and follow us on Facebook to keep up with county 4-H events as they are added (Note: the club schedule may be updated again in fall 2019, but you are welcome to contact club leaders anytime).
ENROLL NOW! Required for all members: A streamlined enrollment process where you enter your family and youth members online at 4HOnline.
For more information or if you have questions, contact Tanya Heath, 4-H Agent at 252-641-7821 or Tanya_Heath@ncsu.edu or Misty Varnell, 4-H Program Assistant at 252-641-7821 or misty_varnell@ncsu.edu.