Homemade Holiday 2019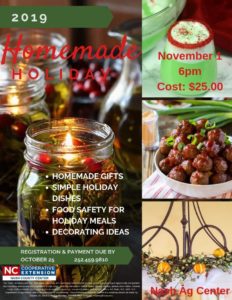 The 2019 Homemade Holiday Program will be held Friday, November 1 at 6 p.m. The program will be held at the Nash County Ag Center 1006 Eastern Avenue Nashville, NC 27856. This year participants will make mason jar oil lamps and holiday potpourri. The class will also learn to make simple holiday dishes, food safety for holiday meals, decorating ideas, and more for a homemade holiday.
The cost to attend is $25.00 and the registration deadline is October 25, 2019. Payment must be made at the time of registration. Please contact the N.C. Cooperative Extension of Nash County office at 252.459.9810 to register.