Edgecombe 4-H'ers Make their Presents at 2013 N.C. 4-H Congress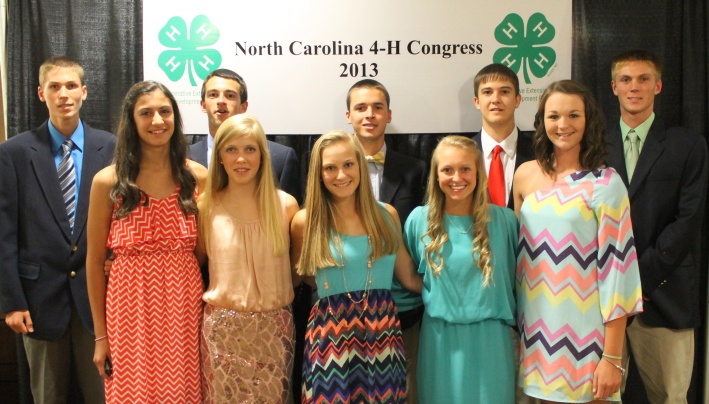 Twenty 4-H'ers from Edgecombe competed in the state 4-H presentation program during Congress; which teaches youth to be confident, verbal and oral communication skills and how to present before peers and judges – all key aspects of creating a sound future for themselves.
Edgecombe was proud to bring home six N.C. 4-H Gold winners who are: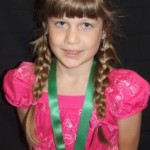 Emily Hill, 10, daughter of Vivian Turner of Tarboro, presented "Taking the Guess Work Out of Gardening" in the area of Agriculture. Emily's focal point was the importance of how to take a proper soil sample test before planting.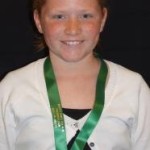 Hailee Whitehurst, 10, son of Ross and Kim Whitehurst shared "Sheep Talk" in the Livestock and Dairy Production category. Hailee's presentation shared the management practices of caring for a sheep herd.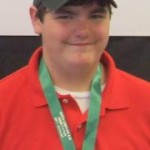 Tucker Harrell, 12, son of Gene and Rhonda Harrell of Tarboro, "Turkey Talk", presentation category Turkey Barbeque. Tucker received a grill for his accomplishments of grilling safely and preparing scrumptious turkey tenderloins.
Hannah Pilgreen, 15, the daughter of Jay and Gina Pilgreen of Tarboro presented "How Sweet are You?" in the Health category where she shared the awareness of diabetes and how Americans need to be mindful of their exercise and diet to avoid becoming diabetic.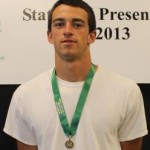 Will Wollett, 16, son of William and Susan Wollett, presented "Marketing Perfection", Horticulture Production and Marketing category. Will's state win won him the honors to represent N.C. at the National Jr. Horticulture Convention in Williamsburg, Va. in October where he will compete for a National Title.
Corbin Griffin, 16, son of Pat and Melinda Griffin, "Corbin's Curb Appeal", Landscaping category. Corbin highlighted utilizing ornamental grasses as landscaping resources in his presentation. Corbin's accomplishment earned him the opportunity to represent N.C. at the National Jr. Horticulture Convention also, where he will compete for a National Title.
Six North Carolina Silver presentation winners came home to Edgecombe.
Team presenters Evan and Zachary Hill, sons of Chris and Jeannie Hill of Tarboro competed with "E-Z Safety" highlighting the importance of learning marksmanship, the safe and responsible use of firearms, the principles of hunting and archery, and the opportunities to develop life skills, self-worth, and conservation ethics through the 4-H Shooting Sports program.
Allison Lancaster, 15 the daughter of J.E. and Melissa Lancaster of the John Deere 4-H Club discussed the importance of the nutritional edible egg with her Egg Cookery presentation the "Incredible Edible Egg". Allison's highlight of her presentation involved the preparation of making egg salad with her secret ingredient the "avocado".
"David's Terrific Turkey Tips" was presented by David Parisher, 15, son of Traci Parisher and Pam Lancaster of Macclesfield, in the Turkey Barbeque category. David was commended by his judges for his outstanding knowledge of turkey facts and his unique sauce.
Older brother Michael Parisher, 16, presented in the category of Poultry Production with his presentation "Dirty Jobs". Michael share information regarding the ever growing poultry industry and its importance.
"Fueling for Fun & Fitness" was Mackenzie Thompson's Peanut Foods Presentation. Mackenzie, 15, is the daughter of Carter and Michelle Carter who as family enjoyed learning about peanuts in preparation for Mackenzie's presentation, especially her P-Nutty Broccoli Salad recipe she shared with her listening audiences.
"Wolfin' Down Pork", was Trey West, 13, son of Kevin and Shannon West themed Pork Cookery Presentation. Trey was highlighted by his judges for his knowledge of grilling pork and doing so safely.
Four youth brought home Bronze acolytes and they are:
Caley Mayo, 12, daughter of Travis and Kristy Mayo presented in the Family Consumer Sciences area sharing "401K My Way". Caley walked through investments strategies to share how to make a 401K potentially grow.
"Storing for Life" was presented by Mary Catherine Mayo, 13, daughter of Danny and Wendy Mayo. Mary Catherine shared the importance and convenience of making sound purchases of pantry items and survival items that enhance a family's life anytime – not necessarily in an emergency situation.
Jordan Lewis, 12, daughter of Jimmy and Teresa Lewis of Tarboro shared "Go Green". In her Environmental Science presentation she shared three important tips that all Americans should consider doing in order to keep our earth clean and safe: "Reduce, Reuse, and Recycle".
Joey Moseley, 12, son of Paul and Regina Moseley of Whitakers presented "Bright, Brighter, and Brightest". Joey shared the early beginnings of electricity followed by contrasting various energy efficient light bulbs. Joey engaged his audience with determining which bulb produced the best lighting but at the same time practiced electrical conservation.
4-H'ers Ashley Wollett, Lillie Medlin and Carolina Mayo all of the Now ya' Working 4-H Club presented in the 4-H presentation program and did very well too.
4-H Academic Scholarship winners were recognized for their achievements during the Monday evening program hosted by Dr. Richard Linton, NCSU Dean, College of Agriculture and Life Sciences. Edgecombe County 4-H'er John Ronald Walton, son of Johnie and Lesa Walton of Tarboro was awarded the General Hugh Shelton 4-H Leadership Scholarship, $1000; the Jack Parker 4-H Livestock Scholarship, $1000; and the Edgecombe County 4-H Livestock Scholarship, $1000. John Ronald will be attending NCSU beginning in the fall.
The final recognition provided to Edgecombe County 4-H Program was in honor of their dedicated 4-H Community Service Program that occurred in 2012. The "4-H Community Givers" worked with 46 organizational partnership projects that were all deemed successful. Because of their outstanding contributions and service learning work they were recognized by the N.C. 4-H Honor Club and honored with N.C.'s third place honors.
Our 4-H'ers work extremely hard all year to be able to be a part of North Carolina's 4-H Congress event and there are those who are making plans to be a part of the 2014 4-H Congress experience right now!